The Best Yakoe Rattan Furniture
Here at Dreams Outdoors, we're proud to stock the best Yakoe Rattan Furniture available. Rattan garden furniture is an incredibly popular choice for UK homeowners and its popularity doesn't look set to stop any time soon. With that being said, we thought we'd show you why this type of furniture, Yakoe rattan garden furniture in particular, is as popular as it is.
Why Everyone Loves Rattan Garden Furniture
1. It's Lightweight – whether you're looking at a rattan sofa or a rattan dining set, there's one thing you can guarantee – it's going to be incredibly lightweight. That means saying goodbye to having to lug heavy furniture around your garden when you want to change the look or better yet, when you're bringing it in and out of storage. With it being so lightweight, you'll also find it's super friendly in terms of your flooring. Whether you have decking or patio stones, you can rest assured that lightweight rattan furniture will not make any unwanted marks or scratches.
2. It's Long Lasting – with the right care i.e. wiped clean with warm soapy water and a fitted cover, your rattan lounger sets, rattan sofas and rattan dining tables will last you many years to come. They require minimal maintenance to ensure they're not only functional but look as good as they did the day you purchased them.
3. It's Stylish – it's no secret that rattan sofas and rattan dining sets are stylish. Look at any beach club in the heart of Spain, any outdoor courtyard and we guarantee you'll find quality rattan furniture providing the seating.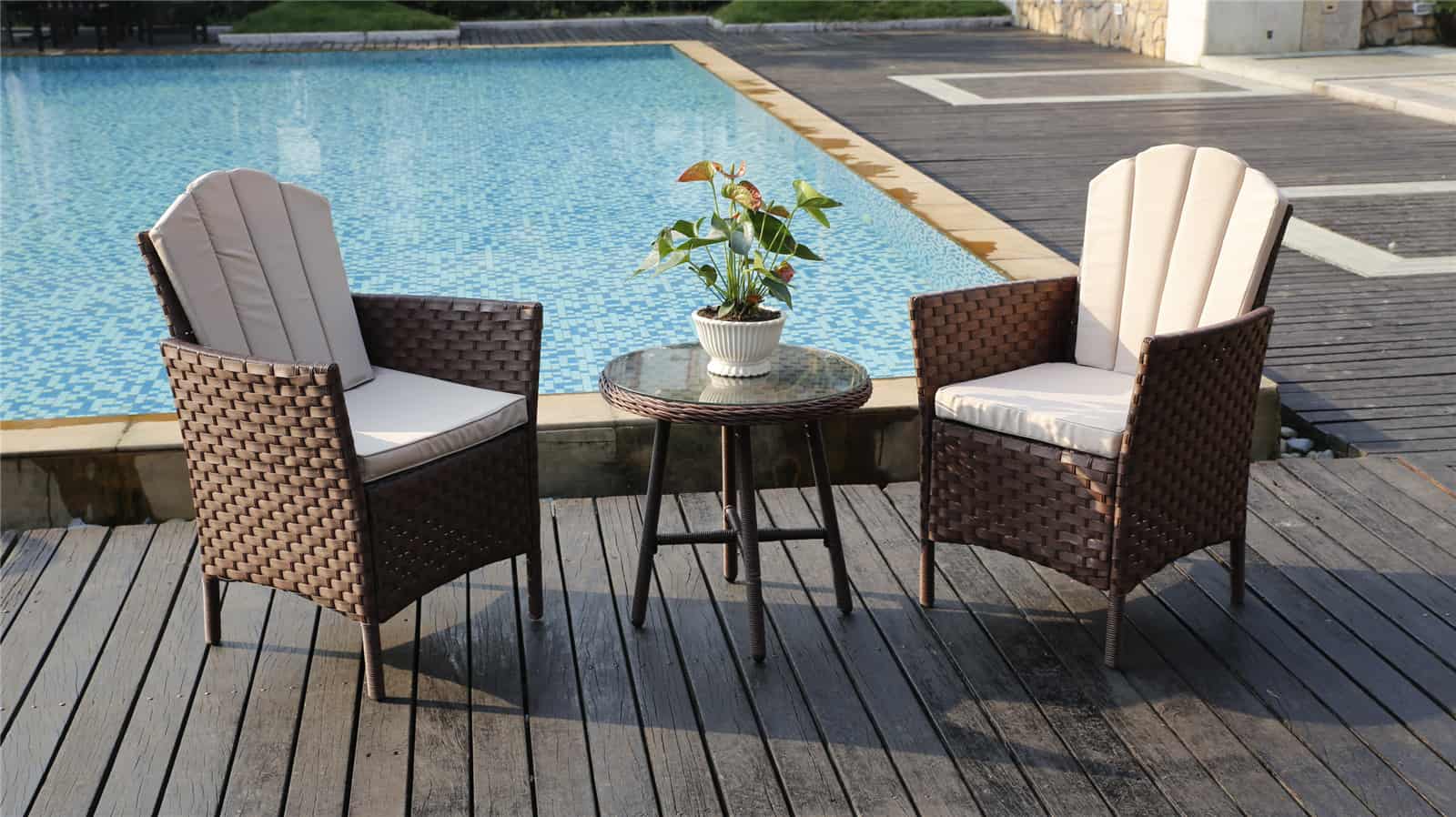 What's So Special About Yakoe Rattan Furniture?
With rattan furniture being so popular, it's so easy to jump online and find cheap rattan furniture being sold off anywhere and everywhere. Ensuring quality however, is a different story. Here at Dreams Outdoors, we're proud to stock the best Yakoe rattan furniture available. So, what makes Yakoe so special?
1. It's Hand Made To Last - all rattan sets from Yakoe are hand made to last. With a mixture of Chinese skill and British design, Yakoe provides the perfect combination to create the ultimate garden furniture.
2. You Can Mix And Match – one of the biggest advantages of Yakoe furniture is that new items are always being introduced into the range. This means that you can buy additional pieces to match your current set later down the line as and when you need them. What's more, they'll still match and appear as if you bought them altogether.
3. Incredible Design And Function – the designers and manufacturers at Yakoe are continually evolving and ensuring their designs are in keeping with current trends. Take their water proof coverings for example, this provides low maintenance and stylish design in one concept, allowing you to literally shake any spilt liquids away without the worry of stains.
The Best Yakoe Furniture By Far
If you're looking for the best Yakoe rattan furniture out there, you've found it. Here at Dreams Outdoors, we stock the very best of the best to ensure that whatever you pick from our assortment, you're choosing quality and style every single time.